Environmentally Friendly Development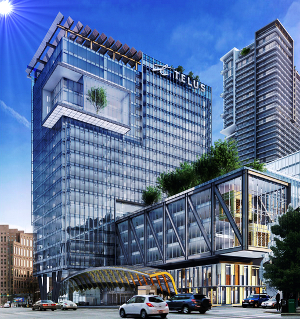 In 2009, the TELUS team set out to transform an aging city block in Vancouver, British Columbia into a centre of collaboration and innovation, where leading-edge technology, contemporary work styles and green living were elegantly integrated into a vibrant new community.
TELUS Garden is an architectural masterpiece and one of the most technologically-advanced and environmentally-friendly developments in North America. One-million-square-foot development comprises a 24-floor office tower and a 53-floor residential tower at 575 W. Georgia Street in downtown Vancouver, BC.
An Environmental Commitment of TELUS Garden
TELUS Garden committed to reduce emission of carbon oxide (CO2) by at least 1 million kgs annually that is equivalent of planting 400,000 trees.
Every aspect of TELUS Garden project's architecture, mechanical design, and energy resource provides energy saving solutions. The systems include triple-pane curtain wall design, operable windows, 100% outside-air supply, radiant heating and cooling, recapture of heat produced by the on-site TELUS telecom equipment, solar panels, and captured rainwater for not-potable water and irrigation.
Compared to other business offices, TELUS Garden office environment will use thirty percent less energy. An additional use of recaptured heat from the TELUS data center will result in overall 80% reduction of grid energy demand for heating and cooling.
At TELUS Garden people believe that environmental commitment cultivates productivity and helps to retain the best and brightest employees.
Harry Cotten is the Dumpster Rentals Depot Customer Support Manager.  You can find his FaceBook Page and read more of Harry's posts by visiting  FaceBook Dumpster Rentals Depot Business Page   Profile.
Published: 2015-09-29T19:20:08-07:00
Author: Harry Cotten